Hygienists carry out professional teeth cleaning by scaling and polishing.
During your appointment our hygienist will carry out an initial dental hygiene examination. They will then:
Scale your teeth to remove any plaque or tartar build-up in those areas brushing cannot reach.
Polish your teeth to remove any superficial stains.
Offer tailored advice and demonstrate techniques you can use at home to maintain good dental health.
Your hygienist will also provide advice and answer your questions about diet and preventing tooth decay. They can spot signs of gum disease and will refer you to a dentist or periodontist if they see anything that needs further treatment.
Your dentist may recommended that you visit the hygienist regularly. The frequency of visits will be determined by your clinical needs but also by your own personal desire to have your teeth cleaned and polished regularly.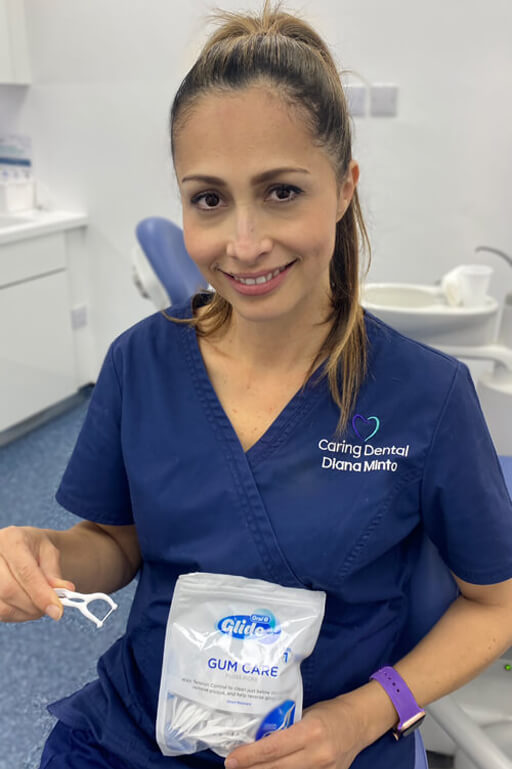 AIRFLOW Guided Biofilm Therapy
Airflow is a professional stain removal system used to remove stains that appear and are difficult to remove yourself.
From light staining to more severe stains; Airflow significantly improves tooth brightness, and gum and teeth health.
Using a special Erythritol powder, air, and a gentle jet stream of warm water; Airflow gently and painlessly removes surface stains caused by tobacco, food and drink. You will immediately see and feel the difference.
As the unit pre-warms the water, this reduces sensitivity. Even people who generally find dental cleaning very sensitive have their teeth cleaned comfortably using this method.
The cleaning action removes the sticky sheet of bacteria, known as "biofilm", that sits around teeth and gums. This biofilm develops when dental plaque is colonised by bacteria and is the main cause of gum disease.
The powder used with Airflow is so gentle that, unlike regular scalers, it is safe to use with dental implants with no risk of scratching or scuffing. It is a great way of keeping implants, and the gums supporting them, clean and healthy.